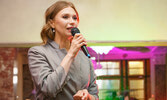 IMPROMPTU:
Memory Skills for Speaking Intelligently
at a Moment's Notice
Your Investment:
The Course fee of $595.00 plus GST/HST.
The cost of the digital version of the live virtual seminar is $395.00 (delivered within 48 hours after the live event).
The cost for both the live virtual seminar and the digital version is $695.00.

Should your plans change and you cannot attend the live webinar, you can request the digital version of the program at no additional charge or apply your full tuition toward a future webinar. Should you cancel altogether, a $100.00 cancellation fee will be charged, provided 3 days' written notice is given.