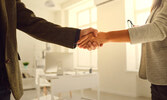 Partnering With Your Boss

A Comprehensive 60-minute Webinar
Forming a healthier relationship between yourself and your management team
In a recent survey 40% of workers said they felt they worked for a "bad boss". The fact that administrative professionals complain that their communication with their managers is neither healthy or effective contributes to a negative work environment.

A collegial working relationship between you and your manager is essential to your success and overall job satisfaction. This 90 minute webinar will provide insights, tactics, and strategies for improving the quality of the relationship with each member of your management team.
A Sample of What You will Learn:
• Project the real you to your boss
• Master the thirteen essential steps for effective
partnering with your boss
• Discover, through the P.A. Douglas iMind Behavioral
assessment, why personalities collide
• Identify your manager's style and develop strategies
for communicating at a more professional level
• Understand and utilize the power of positive communication within your organization
• Minimize the stress and anxiety created and perpetuated by your boss.
• Appreciate the positive power of involvement and commitment when partnering
with your boss or management team.
• Recognize how attitudes affect performance in the workplace, and how learn how to
change them - for good!
Every administrative professional will benefit from this powerful 90-minute webinar, personally conducted by James Paul.
Partnering With Your Boss - Digital Version
*Partnering With Your Boss
Digital Version