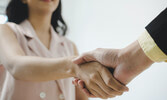 PARTNERING WITH YOUR BOSS

Your Investment: Course Fee
The Course fee of $195.00 plus GST/HST.which includes the pdf course workbook.
The cost of the digital version of the webinar is also $195.00 (delivered 3 - 5 days after the live webinar).
The cost for both the live webinar and the digital version is $295.00. .

Should your plans change and you are unable to attend the live webinar, you can request the digital version of the program at no additional charge or apply your full tuition toward a future webinar. Should you cancel altogether a $50.00 cancellation fee will be charged provided 3 days written notice is given.