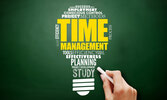 Time and Workplace Management
Your career is more like a marathon, than a sprint. Isn't it time to stop chopping and sharpen your axe?
In today's demanding world, there never seems to be enough hours in the day. The never-ending list of tasks and duties can seem overwhelming. How many times have you sat down at your desk motivated to take on the day, only to be sidetracked by unforeseen events - a colleague's distractions, an overbearing boss or just plain old disorganization?
There's no shame in admitting you need a little help along the way. Acquiring the knowledge to combat workplace distractions, learning to say no to those you never wish to disappoint and creating realistic "to do" lists are essential in today's extraordinarily fast-paced working landscape. Distractions are the proverbial quicksand on the path to reaching our goals. The importance of managing one's time cannot be overstated - "a goal without a plan is just a wish."
At This 1 Hour Webinar You Will Learn How To:
Identify your personal behavioural "time" style.
Learn "what must be done," "what should be done," and "what should NOT be done!"
Identify what or WHO is a time-waster.
Say NO, to colleagues, your boss/supervisor, or others eroding your ability to get things done.
Manage the "unanticipated task" the "unimportant task" and "other people's priorities."
Understand the control model and how it affects the work-life balance.
minimize perfectionism so that you're not bogged down with unimportant tasks.
Revisit the power of the Pareto principle.
Who Will Benefit?
This program is designed specifically to address the needs of managers, directors, project leaders, supervisors as well as other administrative professionals
Time and Workplace Management- Digital Download
*Time and Workplace Management
Digital Version