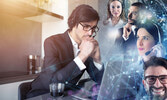 Effectively Supervising Off-Site Employees:
A Comprehensive 60-minute Webinar
Developing positive remote working strategies and techniques for improved employee performance
Overview
In response to the challenges presented by the Covid-19 pandemic, new policies leave many employees and their managers working out of the office and separated from each other for the first time. With nearly half of the workforce working in some sort of telecommuting role and 80% of all employees saying they would like to continue to work remotely at least part of the time, this new normal may continue to some degree post-pandemic.
Managing and supervising off-site employees creates a distinctive set of problems, indeed Management issues are magnified when your employees work from remote locations.
Communication is more difficult; conflicts arise among team members and accountability suffers.
If your responsibilities include managing employees from a distance, you need to learn how to keep your team on task, even when you can't be there to watch over everyone.
In the intensive webinar, Dr. Paul Douglas will provide you with specific, research-based techniques that will improve engagement and productivity and keep your remote team motivated - when you can't be there to watch over everyone.



If you are in the United States click here
How to Manage Remote Employeess - Digital Version - Tax Exempt
Effectively Supervising Off-Site Employees
*Digital and Live