THE INFLUENTIAL ASSISTANT:

The VIRTUAL 49th Annual Administrative Professionals Course

With APC Certification




Scroll Down To Register



Overview
The Virtual Course will be offered over three consecutive days with daily meeting running five hours with the normal breaks. To suit everyone's, schedule the virtual course will be offered in November, 2021, and throughout 2022.
November 2021 Session
Day One – November 2nd, 2021
Day Two – November 3rd 2021
Day Three – November 4th, 2021
January 2022 Session
Day One – January 11th, 2022
Day Two – January 12th, 2022
Day Three – January 13th, 2022
March 2022 Session
Day One – March 8th, 2022
Day Two – March 9th, 2022
Day Three – March 10th, 2022
April 2022 Session
Day One – April 5th, 2022
Day Two – April 6th 2022
Day Three – April 7th, 2022
*Please note, deadline to receive materials in the mail before start date is fourteen days prior.

Comprehensive Courseware Package
You will receive all the course materials in advance by mail (not pdf copies) and will also receive your Certificate of Achievement, APC Certification and 2.2 CEU's.

The virtual seminar will include everything covered at the in-person workshop. It will be live on ZOOM so participants can fully participate and engage with the faculty and other participants. There will also be clips from in-person sessions where appropriate.
The regular fee is $ 2,895.00, but while space is available, your cost is just $1,295.00.
This will be a great event with participants attending from all across the United States, Canada and Western Europe.
Please download the The 49th Annual APC Certification brochure by clicking here: Brochure.
This will be a great event with participants attending from all over the United States, Canada and Europe.
As an administrative professional, much is expected of you today. Good organization, management and people skills are no longer an option -- they are an imperative. At this comprehensive program, you will participate in a significant learning experience with others who share the same responsibilities and face the same challenges.
Today's executive or administrative assistant must be a strategist, a coach, a diplomat and a politician!

At this powerful training event you will discover the strengths and weaknesses of your individual behavioral style. You will substantially improve your ability to influence others, manage conflict and resolve team conflicts using emotionally intelligent approaches. You will also learn how to better control yourself - your time and your reactions to events outside of your control. By developing the new organizational skills, you will get the best results in the least amount of time, juggle priorities and adjust to shifting demands with grace and clarity, thereby increasing harmony and a sense of accomplishment.

In short, you will learn to manage people, resources, and self!

For forty-nine years, P.A. Douglas has set the gold standard for excellence in Administrative and Executive Assistant training. It is where administrative professionals come to learn, network, and engage with leaders in the field. No other seminar or event provides the comprehensive high-quality program that the Influential Assistant Course: The 49th Annual Administrative Professionals Course does.


What To Expect




ENHANCE INFLUENCE: Get greater results with people - even when you are not in charge



Cope with difficult co-workers and others

who create stress in your environment.

Identify your emotional intelligence strengths and weaknesses and develop specific strategies

for enhancing your EQ

Communicate your ideas persuasively to your boss, influence your colleagues to support your proposals and convince your team to, "buy-in."

Receive numerous tips for successfully working with others as part of a team


Learn to handle the three types of events that erode your effectiveness – the unimportant task, the unanticipated task and other people's priorities

Solve project issues quickly and come in on time – every

time!

Develop strategies for preventing, reducing, and managing stress

Remarkably improve your ability to remember names and

faces

Become a true partner with your manager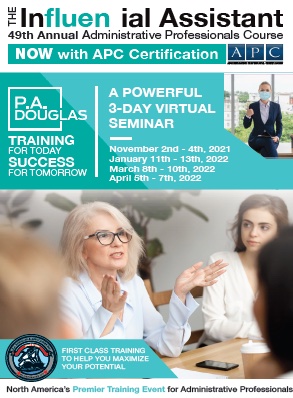 Make the Case to Attend!
CLICK BELOW TO Download sample PowerPoint® presentation and Letter

*IMPORTANT: If you are tax exempt, click here to register.

If you are in the United States click here